Religious Connections
Just like in many Families around the world, we have discovered a diverisity of religious influences and beliefs throughout the Amador Family line. See below.
Be part of the 1st Edition Book and Manuscript by Adding your family line.
During our research The Amador Family World Genealogy Project has found
different family links to the Christian and Catholic faith that will be included
in the 1st First Edition of our Family Book.
Some members of the Amador namesake recieve nobility for services to the
Holy Catholic Church during the acts of the "Spanish Inquisition" and
other family members have shared verbaly handed down stories to us.
More information will also be added to the First Edition of our Family Book.
For sevices to the Holy Catholic Church we found two Amador men who earned their nobility by being direct members of The Holy Office of the Inquisition:
Pedro Amador de Lazcano, from Villacarrilo, and who was member of The Knights of Hidalgo. He officiated over the Inquistion in Cordova in 1628
and Juan Amador Llaner Domenech Y Colomina, from Carcaixent (Valencia). He officiated over the Inquisition in Valcencia in 1630.
Jose Amador De Los Rios - Spanish Historian
Jose Amador De Los Rios was Spanish wrote about the Jewish influence, culture, politics, and religion in Spain. Even though, he was known to have been of the Catholic faith, many people speculate why a Catholic Nobleman would ever write about the Jewish subject. Some have speculated that he may have been of Jewish Origin or Descendant, or Crypto Jew, and his line may have been forced to convert.
He was spanish historian of the Jews in Spain and Portugal, and archeologist; born 1818; died at Seville, 1878. De los Rios was for some time inspector-general of public instruction in Spain. He wrote many works archeological in character, two of which are of interest to Jews. In 1848 he published in Madrid "Estudios Históricos, Políticos, y Literarios sobre los Judíos de España." This was translated into French (Paris, 1861), and later on was expanded into the larger work on the same subject, "Historia Social, Política, y Religiosa de los Judíos de España y Portugal" (3 vols., Madrid, 1875-76). Amador de los Rios was interested chiefly in the constitutional position of the Jews; and his work, from this side, is very thoroughly done. He was, however, unacquainted with Hebrew, or Jewish sources; and his treatment of literary history in the earlier book is derived merely from the uncritical notes of De Castro.
José Amador de los Rios.(From the frontispiece to his "Historia.")
Bibliography: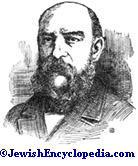 List of his sources given in Jacobs' Sources of Spanish-Jewish History, pp. 213-244, and summary of the contents of the book, pp. 214-221.
During our research The Amador Family World Genealogy Project has found
different family links to the Jewish faith as well as stories handed down from
families about their Jewish ancestry that will be included
in the 1st Edition of our Family Book
The Jewish Connection
by Philips Amador
The Amador last name has been recognized by several Jewish Federations has been as of Sephardic descent. To this day we have Family members who practice this religion as well as other religions world wide. Most Amadors feel a kinship to the Jewish faith, proudly wearing the " Star of David " as a long term tradition handed down from one generation to the next. This has and was done to honor long lost memories and stories of the Amadors during the Inquisition on both sides of the conflict. It is said that the Amador name originated around the 700's. This means that not only was the Amador Family part of the conflict and development of Spain during the early years, their religion must have been as diverse as the county itself.
I could never imagined what must have transpired between family members in that era. Those who already were Catholic, those who were being converted, and those who never did, and those who carried the Jewish faith. This family along with multiple number of others families were separated , condemned, and exalted by the religious fervor of the times.
Alejandro Ney Amador my Uncle had his Congregation do a small genealogical report on the last names that encompassed all the member of our family line. One last name I found very interesting, "Tola". This last name also a city where part of my family grew up in Nicaragua, comes from Hebrew word, "Tola" which in Hebrew means "Sacred Ground".
Note:
The story that has been passed down from generations to generations in my family is that we are derived from the two tribes, the "Issachar", from a male heir, and from the tribe of "Judah" from a female heir. This has been handed down throughout the centuries verbally in my family.
Many other last names found in this report also contain Sephardic origins, Oppenheimer, Gonzalez, Belmonte, Bustos, Alvarez, Tola, Gutierrez, Ordonez once written (Ordonaux), Torres, and Ferrer these families intertwined with the Amador Family.
Now, on March 22, 1933, a few weeks after Adolf Hitler had been appointed Reich Chancellor, a concentration camp for prisoners was set up in Dachau. The Dachau Camp served as a model for all later concentration camps and as a "school of violence" for the SS men under whose command it stood. In the twelve years of its existence over 200.000 persons from all over Europe were imprisoned here and in other numerous training subsidiary camps. Here 41.500 were murdered just from this camp alone. The total number of Jews killed during the Holocaust has been estimated as over 1 Million. On April 29, 1945, American troops liberated the survivors.
There were two Amadors listed as prisoners in the Dachau Concentration camp. Juan Josef Amador born June 11, 1928 and Juan Marie Amador born May 8, 1904. The Holocaust records of Jewish prisoners unfortunately showed their disposition date as June 20, 1944. The war officially ended May 1945.
Note :
My Great Grand Father from my father's side Paul (Filiberto) Oppenheimer was a French Jew and was my Grandfather Jose Leonardo Amador's father. He came to Nicaragua in the later part of 1800's with his brother Nestor, Camilla Gold Lazard, Nestor's wife, his father, Salomon Oppenhiemer Tola and his Mother, Esther Bustos Oppenheimer. Salomon and Esther were my Great Great Grandparents and are buried somewhere in Nicaragua, even though we are not sure where at this time. Paul (Filiberto) Oppemiemer's nephew Rene Salomon Oppenheimer, (Nestor's son) was born in 1911 in Managua, Nicaragua. Rene ,my Great Grand Uncle, while in France and being Jewish descent was arrested by the Nazi regime and detained in the Drancy Internment Camp in 1942. He was able to obtain false documentation indicating that he was not Jewish and was released. He remained in France during WWII and died in Ville d'Avray on Sept 1,1996. The last I heard about this line Oppenhimer line is that they grew up in New York. As Rene and Paul had both family in France and New York City, as far as we know all the descendants of the Oppeheimer line lives in New York.
FROM THE BOOK:
Great Grandfather Filiberto (Paul) Oppenheimer,
my Grandmother Maria Cristina Amador
and her mother
Great Grandma Rosa (Rose) Amador
Ever since I can remember I was told that we were or came from Jewish descendents, I always accepted it without realizing why. I mean there is nothing more curious for anyone than to be at a time in your life where something you have just discovered makes a deep impact on your life. Then I started to do research on this book and my intent was to find out more about the Amador Family Line and see how much of an impact in the world the name Amador has made. I was hoping to find more and more than just stories and or history. I was hoping to find out something about myself. What I found out more that anything is that where you come from matters more than we realize, whether we like it or not. Once you figure out a small piece of the puzzle everything become more obvious. Everything becomes more clear and life become a little easier.
My Grandmother Maria Cristina Ordonez always made it a point to tell me that she loved me, every time she saw me. I love her more than I ever loved some one. She did not speak about her father very much. She probably did not speak of him due to the fact that she was an illegitimate child and may not have wanted to engage me in a subject like that, but I knew her as loving, strict, and beautiful woman whos soft voice and carry a big stick attitude taught me to cherish my family, love my parents, and respect the Lord.
As I started to do the Family Tree, I asked my Uncle Alejandro about the reason why I heard stories about us coming from Jewish roots and he explained.
My Great Grandmother Rosa Amador, had one child with Filiberto (Paul) Oppenheimer who's parents were of Jewish Descendant he was, my Grandfather Jose Leonardo Amador. The story in my family is that Filiberto (Paul) Oppenheimer, did not want to pass on his last name in fear of placing his child in danger, because his father was Jewish. The Inquisition was supposed to have been abolished on July 15, 1834, by a Royal Decree signed by regent Maria Christina of the Two Sicilies
, Ferdinand VII's liberal widow, during the minority of
Isabella II
and with the approval of the President of the Cabinet
Francisco Martínez de la Rosa
. My grandfather Jose Leonardo Oppenheimer was born 1909 close to 60 some odd years after. However the Holy Roman Catholic Chucrch still persecuted Jews in many other forms The Catholic church in Nicaragua was so opposed to the religion that when the Sandinista Regime overthrew the Somoza Government in 1979, any and all Jewish property was taken and most Jews were expelled, or decided to flee in fear of persecution , jail and even death, and therefore Filiberto (Paul) did not provide him with the Oppenheimer last name. His birth certificate only had one last name. He, therefore was name Jose Leonardo Amador. The Amador last name has been confirmed to be of Sephardic origin. Grandma Cristina also explained that the part of the Amador family also practice Judaism and carried that star of David in either a Chain or a locket, in remembrance to the our Jewish roots. I learned that our family had both Catholic and Jewish descendents, and that some of our Amador ancestors assisted in the Inquisition. There are family stories handed down of Amadors who were killed During that period of time for being Jewish as well.

The conviction of every individual to follow their faith till the death, just shows me how much I am proud to be who I am. I am an Amador, a beautiful name that has traveled through the world. A name that will be honored and cherish for generations, after generations, after generations to come. Thanks to my Great Grandmother Rosa Amador. God bless her soul.

And yes we do have some Jewish Blood in the Amador family lines. The cherished part of being raised by families of both religions has taught me one thing, we will always be a great family that will endure throughout the times.
The Messianic Jewish Congregation Shema Israel
The Messianic Jewish Congregation Shema Israel also did a reseach which concluded that the Amador Name Included the Jewish root " Ama" and was considered to be of Jewish Origin along with other family lines. This nformation provided by Alejandro Ney Amador, with our Thanks to Rabbi M.D. Goffman.
their website: http://www.shemaisrael.net/
The International Federation of Messianic Jews.
The International Federation of Messianic Jews also list The Amado Last Name, an Original derivitave of the Amador Last Name as and official Jewish Sephardic Family Name (See PDF Below Page 6)
Information provided by http://www.ifmj.org/sephardic/sephardic_surnames.shtml
Disclosure

All information provided to this project will be used to create a Family Archive. The Amador Families are the sole benefactors of this long standing Family project. All information provided will be handled with most secure understanding that such and all information will be used for the project and its development.
The Amador Family World Genealogy Project will never ask for personal information other than that which will be used to develop the project, such as names of relatives to create a full family tree.
Ideas or comments or wish to donate please contact